Adobe Animal Hospital of Soquel Team
Here at Adobe Animal Hospital of Soquel, our staff is dedicated to ensuring that you and your pet have a positive and efficient experience with us, regardless of what it was that brought you through our door. We strive to help pet owners understand their pets and learn about preventive health care maintenance. All our staff are pet owners and pet lovers and are dedicated to providing an exceptional experience for you and your pet.
Continual training and monthly staff meetings keep the staff focused on client service, updates in medicine and diagnostics, and new products. The staff is continually challenging themselves and other team members to improve daily procedures, quality of care, record keeping, and devotion to animal comfort and well-being.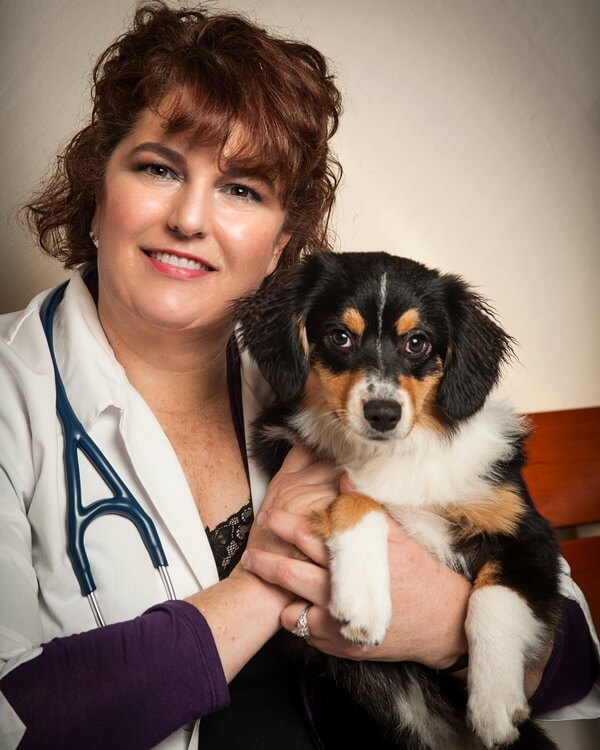 Victoria Bannerman, DVM
Vicki is an East Coast transplant, having moved here from Annapolis, MD, where she helped manage a clinic for four years. She is originally from Atlanta, GA, where she grew up and learned to speak fluent "Southern." She graduated from the University of Georgia School of Veterinary Medicine in 1987 (how about them dawgs'). Although Dr. Bannerman enjoys all phases of the veterinary profession, her passions are veterinary geriatrics and pain management. She is a Certified Veterinary Acupuncturist. Her hobbies include theater arts, scuba diving, international travel, raising bees, and singing. She is an active member of Sweet Adelines International, and she lives in the Santa Cruz mountains with her husband, three children, and multiple pets.
Cristina Topper, DVM
Cristina is a native of San Francisco and obtained her undergraduate and doctorate degrees from UC Davis. She joined Adobe Animal Hospital of Soquel with extensive experience in Emergency Medicine. She came to us from Pacific Veterinary Emergency Clinic. She performed her internship at a specialty hospital in Los Angeles. As a general practitioner, her interests include dentistry and dermatology.
Cristina enjoys eating, shopping, and exotic travel to Las Vegas in her free time. When she is home, Cristina spends too much time with her cats. Although Cristina says she has no hobbies, she would love to learn surfing if it were not for the fact that she can't swim.
Deborah Moreno, DVM
Deborah was born and raised in the foothills of Mt. Shasta, CA, in the little lumber town of Weed. She received her bachelor's degree from UC Berkeley in 1981 and was awarded her Doctor of Veterinary Medicine degree from UC Davis in 1986. After owning a practice in Oakland for five years, she left city life to settle in the Santa Cruz Mountains in 1992, where she has raised her family and made her home ever since. She brings a dedication to all aspects of the practice of small animal medicine with a special interest in surgery and preventative care. She sees her role as an integral member of the pet's healthcare team, helping pet owners navigate decisions in nutrition, training, specialty care, preventative care, and other areas that maximize the human-animal bond. In her off time, she loves hiking in the redwoods with her dogs and spending time with her cats in her vegetable and flower garden, ever grateful for life in our beautiful Central Coast paradise.
Anneke – Registered Veterinary Technician
Anneke began working as a Veterinary Assistant in 1988 after a long career in the human nursing field. She graduated from Hartnell College in 1996 as a Registered Veterinary Technician. She works in all fields of our hospital and assists the doctor as needed to attend to our furry patients and their companions. She switched careers from the human medical field she had chosen in her younger years because, to her, there is nothing better than to come together with the animals needing care to touch their spirit, to love their being, to be understanding, and to become one with their fears and joys. Many lovely four-footed friends have shared her home, and at this time, she is graced to share her life with seven dear cats.
Brynne – Registered Veterinary Technician
Brynne has been a resident of Santa Cruz since 1972. She raised her family here and has had cats, dogs, and horses in her life for many years. Brynne graduated from Hartnell Community College and received her Registered Veterinary Technician's license. Following that, she went to the Canine Rehabilitation Institute in Florida and received her certification in canine rehabilitation in 2007. She feels very fortunate to live in such a beautiful community and grateful for all the wonderful animals in her life.
Elijah – Veterinary Assistant
Elijah was born and raised in Santa Cruz and is currently living in Soquel. He is a graduate of Oaksterdam University. In his downtime, Elijah enjoys training dogs with his grandfather at the dog classes held at the Adobe Animal Hospital of Soquel. His most recent passion is his new puppy, Asmodeus. Elijah's long-term plan is to be a successful small business owner.
Lauren – Veterinary Assistant
Lauren grew up in Sacramento, CA, where she completed the Regional Occupational Program for Veterinary Medicine with an internship at the Folsom Zoo Sanctuary. She moved to Santa Cruz to attend the University of California, Santa Cruz. She graduated with a B.S. in Biology in the Fall of 2018. Lauren enjoys cuddling with her cat Mochi Bear in Santa Cruz and walking with her Australian Shepherd Jax when she visits her family in Sacramento.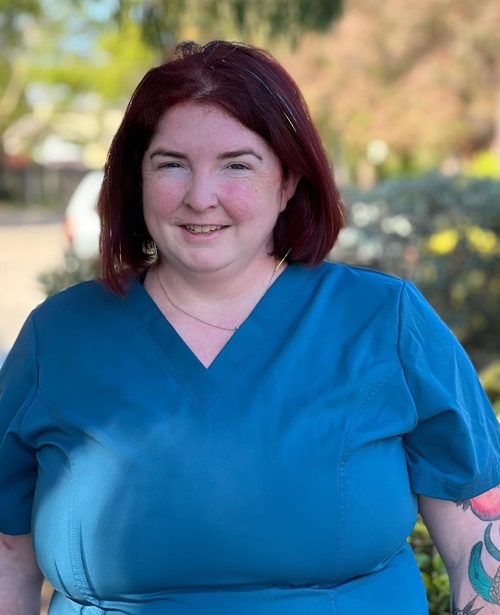 Kat – Veterinary Assistant
Kat moved to California from England in 1996 with her family. She's a student at Foothill College, getting her last few classes done so she can apply to the next veterinary technology program class. When she's not at work or studying for school, she's a nerd. She loves playing Dungeons and Dragons and Amtgard in her free time. She also tries to fit horseback riding in whenever she can. She lives in Scotts Valley with her husband and their fish.
Maya – Veterinary Assistant
Maya was born and raised in the Santa Cruz mountains. She aspires to further her education in veterinary medicine. Maya has worked as an assistant with animals, from horses to police K-9s to newborn puppies, before working for Adobe Animal Hospital. Throughout her life, she has shared her home with dogs, cats, horses, bunnies, chickens, a tortoise, a lizard, and various rescued wildlife. Maya's favorite part of working at Adobe is connecting with the patients and trying to make it a "positive" experience.
Sonia – Veterinary Assistant
Sonia is a veterinarian assistant here at Adobe Animal Hospital of Soquel. She attended and graduated from Central Coast College with a degree in Vet assisting. She has two pets of her own named Bentley and Princess. She enjoys traveling, drawing, and spending time with family and friends in her free time.
Veronica – Veterinary Assistant
Veronica was born and raised in Watsonville and has attended Central Coast College for the Veterinary Assistant program. Her career in veterinarian medicine started two years ago at Banfield Pet Hospital. One of her favorite parts of working in this field is educating pet parents and making their pets feel better. Her long-term goal is to return to school and become a Registered Veterinarian Technician. In her spare time, she enjoys spending time with her son, who also loves animals, catching sunsets at the beach, and spending time with family and friends. She takes pride in speaking for those who have no voice.
Gladys – Veterinary Assistant
Gladys Chavez was born and raised in Capitola. She studied and received a veterinary assistant certificate from Central Coast College. She is pursuing to become a veterinary technician. Gladys has two dogs, who she likes taking on adventures. In her free time, she likes to watch documentaries and go off-roading in her Jeep.
Melissa – Hospital Manager
Melissa has worked with us since 2010, starting as the front desk supervisor and advancing to her current position as Office Manager. She is an AAHA Certified Office Manager and a certified Medical Assistant. Her extensive experience in the medical field makes her the perfect addition to our Adobe Team.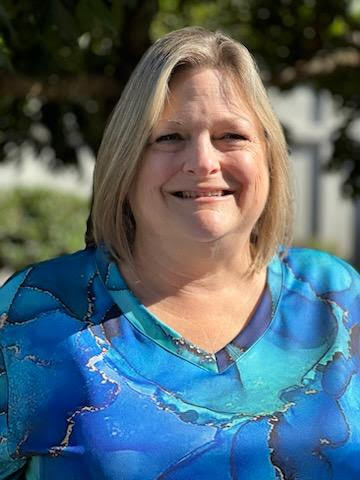 Tami – Customer Service Representative
Tami was born & raised in Santa Cruz. She lives in Coralitos with her husband and raised their daughters there. She has been working in the veterinary world for 26 years.
She loves cooking, taking long walks with her husband, and playing with her grandchildren.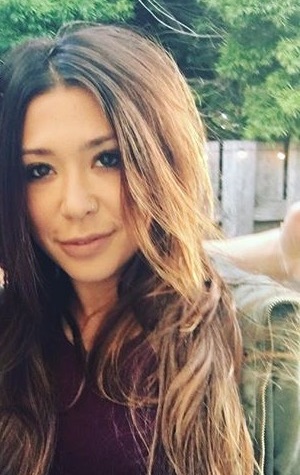 Regina – Customer Service Representative
Regina has worked at Adobe Animal Hospital for five years and has begun her AAHA Veterinary Hospital Manager certification. You can often see her little Boston Terrier, Dottie, sitting with her behind the reception desk. Born and raised in Santa Cruz, Regina enjoys pet sitting for some of our Adobe clients and hiking with her dogs, Dottie and Bishop. Regina is also a passionate violinist.
Fatima – Customer Service Representative
Fatima was raised in Watsonville. She has four Boston Terriers and has always loved animals, so she loves being a part of the Adobe team!
Tony – Operations
Tony is a professional technology consultant, "I.T. guy,"–our resident computer nerd. Tony and his husband have been clients for many years, and he loves interacting with all the furry patients who come into the clinic.
After spending decades in the software industry, he is finding a new passion for being around so much "Pawsitive" energy!